Balls of Steel Season 1 Episode 4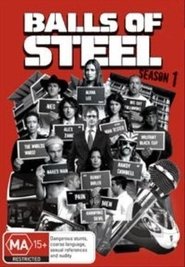 Balls of Steel Season 1 Episode 4
In this episode we see:
"The Alex Zane Lying Game" – where Alex Zane creates a "lie detector" out of an air-conditioning unit, forcing a member of the public to admit to more than he probably should.
"The Militant Black Guy" goes to zoo, a travel agents and a butchers.
"The Naked Man" visits the Lake District, surprising the local ramblers.
Olivia Lee is back with her water pistol microphone. Her latest victims are: Julian Fellowes, Leilani, Pete Doherty, Darius, Sharon Osbourne and Tom Cruise.
"The Man Tester" decides to pick up a guy in a bar and entice him into a bizarre sexual situation. Will he stay or will he go?
Randy Campbell is back for the final time to do a stunt in the studio.
Episode Title: Episode 4
Air Date: 2005-09-09
Year: 2005